Practice management software comparison

Author: HealthTimes
Practice management software is used by medical facilities, small and large, to improve the operational efficiency of their organisation, and also support high quality care and service for patients.
Expanded internet access, and the advent of cloud based software systems has dramatically expanded the functionality and service range that practice management software systems can deliver. It has also facilitated a significant reduction in product distribution and support costs which has resulted in the proliferation of a large number of service offerings.
Subscribe for FREE to the HealthTimes magazine
The table below summarises the features and offerings of a selection of practice management solutions.
Download the full table here.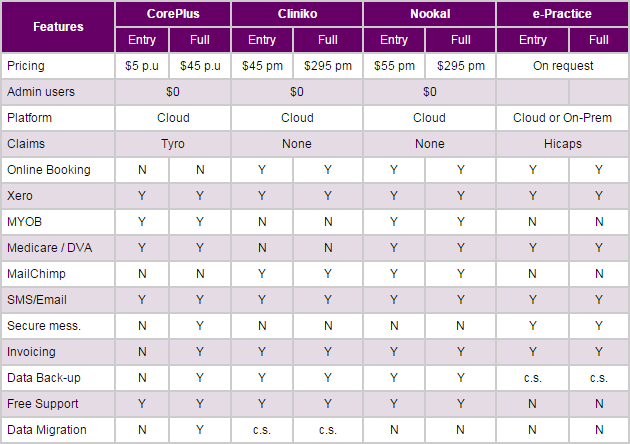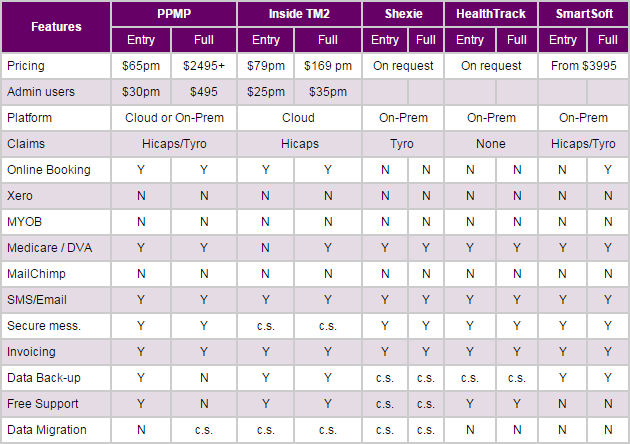 • P.u – per user
• P.m – per month
• C.s – contact supplier
What are the important considerations?

Pricing:
Most online software systems are sold on monthly or annual subscription basis, and pricing can be on a fixed monthly price, or on a per user basis. You need to consider how your organisation may change and grow over time, and what the cost implications of this will be in light of the pricing structure offered. Also consider what would be involved if you needed to change service (e.g. what are the break costs, and how easy would it be to migrate to a new service?)
Platform
Cloud based or on-premise. Most of the solutions featured above offer a cloud based solution. The only reason for an on-premises solution is if you don't have confidence in the security or back-up services offered. In general, an on-premise solution will be more time-consuming to manage in terms of installing updates, and remote access to the system will be much more difficult to achieve.
Claims
How will the system support private health insurance claims? Is this important for your practice? Do you require a HICAPS system or do you prefer TYRO? Additionally, is it important for your practice to integrate with Medicare, DVA or WorkCover? Claiming functionality varies greatly between providers, it is best to consult with the provider to determine if their claims functionality works for your practice.
Online Booking
Most cloud based offerings include an online booking system to ensure clients can manage their own appointments and allowing practises to reduce administration costs. Offerings which do have inbuilt online booking systems, such as CorePlus, will generally integrate with a third party provider such as HealthEngine to support this functionality.
Integrations
Integrations may include accounting software (XERO, MYOB), email marketing services (eg. MailChimp), CRM systems, referrer networks (HealthEngine or WhiteCoat), dictation software for notetaking and integrations into existing calendar or email systems such as Outlook or Google Calendars. The importance of these integrations will largely depend on your existing set-up and the needs of your practice. It is important to remember that cloud based options have a greater ability to expand on their integrations.
SMS / Email
The ability to send reminders or notifications automatically via SMS or Email can be important to lower administration costs and move towards a paperless office. All of the products featured above offer SMS/email messaging systems.
Secure Messaging
Secure messaging is an important feature for practices needing to send confidential information without risking privacy or care standards. While some software offerings include an in-house secure message delivery (SMD) system, others offer integrations with third party services such as Argus or HealthLink.
Invoicing
Streamline your billing process by creating an invoice and taking payment directly from a client's appointment or send batches with the click of a button. Invoicing functionality may also allow users to integrate with third party accounting software to easily track and manage their finances.
Data Back-up
It is likely that the data in your practice management software is critical to your business, so ensuring the integrity of that data is vitally important. Make sure you understand how the data you enter into your practice management software is secured. Most cloud based systems have the capacity to provide automatic back-ups, if you have an on-premise offering you may need to set up your own data back-ups.
Support
When users encounter a problem with their software it is important to have access to fast and accessible tech support. Many of the cloud offerings include free tech support for users however this is often based around online help pages or forums where users can find answers to their problems with phone or email support for more in-depth assistance.
On-premise offerings usually include a free tech support period of about 3 months for new users to assist in the set up and address any teething issues which may occur. Ongoing tech support can be purchased as part of a package.
Data Migration
How will you migrate data from your current system or software to your new system? Some service providers offer a data migration service to assist you with this process.
Comments
Email to a Friend