What do nurses earn?
Registered Nurses (RN) in Australia earn an average salary of $61,000 per year. Nurse wages vary based on location, qualifications, experience and seniority.

A range of resources are provided below to assist in determining the pay for nurses and midwives in Australia.

The HealthTimes Wage Checker App below is an interactive app that allows nurses and midwives to check wages based on location, role, grade and experience. The wage checker app is currently only applicable to public sector nurses and midwives.

The wage checker app and the charts and tables below do not take into consideration factors such as working conditions, nurse to patient ratios, over-time allowances, salary packaging provisions, agency rates nor any other allowances. It is therefore important that nurses and midwives check with their Human Resources contact or relevant Australian Nursing & Midwifery Federation body for more specific information.
Australian State-by-State Nurse Salary Guide (public system) Annual Base Salaries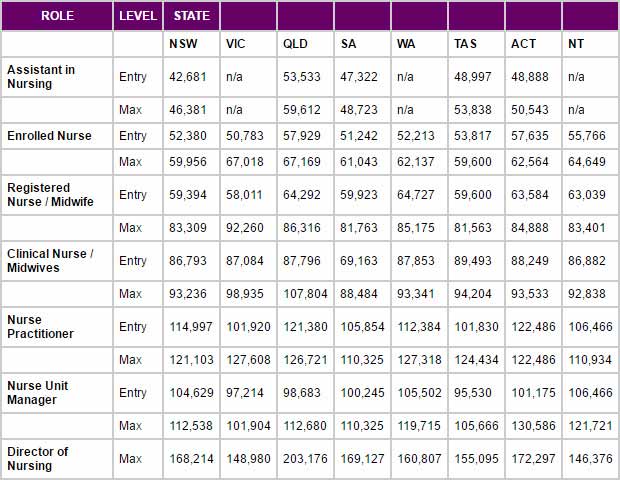 Click here to search for
nursing jobs
Click here to search
nursing courses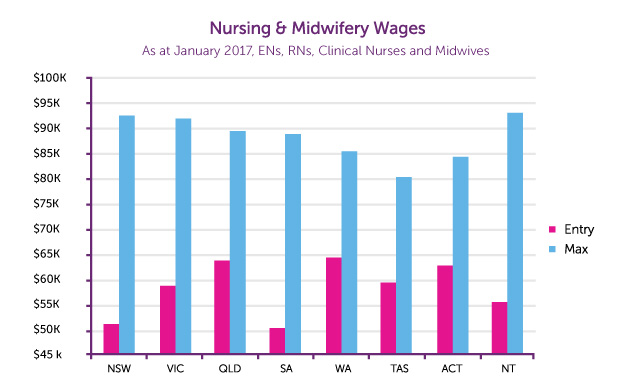 Other Resources:
ACT Nursing & Midwifery Wages Agreement
NT Nursing Wage Rates
Aged Care Award 2010
NSW Public Health System Nurses and Midwives Award
Victorian Nurses and Midwives Enterprise Agreement 2012 – 2016
Queensland Nurse Pay Rates
Nurses Midwifery (South Australian Public Sector) Enterprise Agreement
Western Australia Enterprise Agreement (nurses, midwives)
The Australian Nursing & Midwifery Federation
Department of Health Tasmania Salary Rates
Comments
Related jobs
Nurse Village Manager - South East Suburbs
Hobson Health Recruitment - Bayside & South Eastern Suburbs 23-05-2017
Hobson HR, is incredibly proud to be working alongside an award winning, boutique retirement service provider
Community Pharmacy Nurse
Hobson HR - Western Suburbs 23-05-2017
"Join an elite team of nurses that are shaping Victoria's community emergency health services".
Email to a Friend