Top tips for getting promoted in nursing
It's never too early to start thinking about the next step in your nursing career! While your primary focus should be on learning and succeeding in your current job, you need to make sure you are keeping your eyes open for opportunities to improve your knowledge and skill - things that will yuo an ideal candidate for more senior nursing positions.
Here are our top tips to boost your chances of getting that nursing job promotion!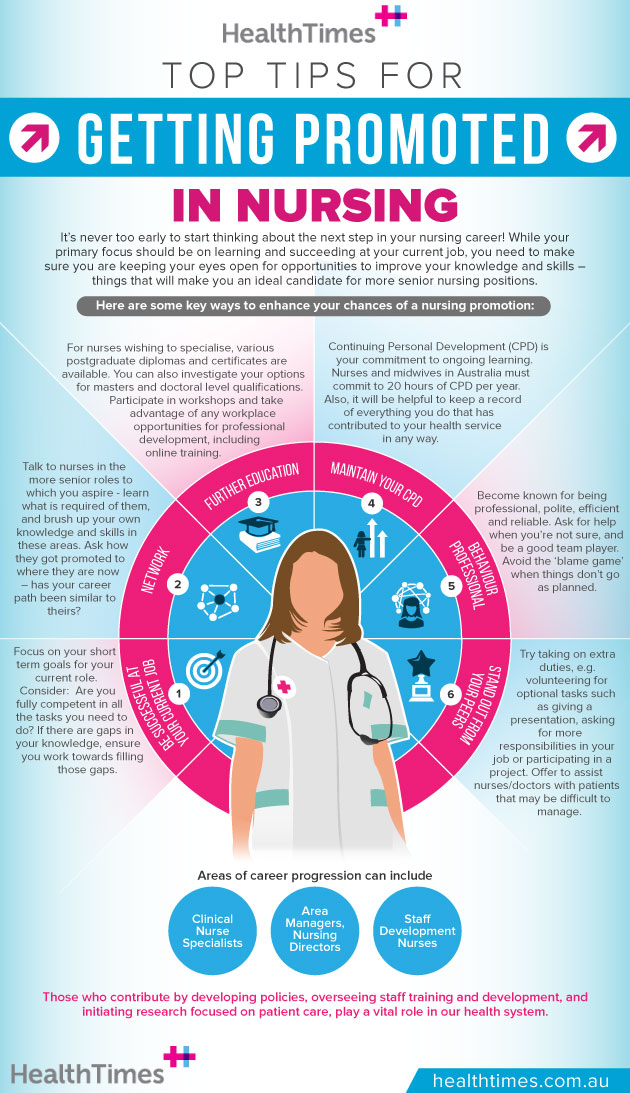 Comments
Featured jobs
Clinical Support Nurse
Aboriginal Health Council Of Western Australia - CBD. Inner & Western Suburbs 30-11-2021
Provide expert clinical governance advice, public health response and continuous quality improvement
Clinical Support Nurse
Aboriginal Health Council Of Western Australia - CBD. Inner & Western Suburbs 30-11-2021
Provide expert clinical governance advice, public health response and continuous quality improvement
Clinical Support Nurse
Aboriginal Health Council Of Western Australia - CBD. Inner & Western Suburbs 30-11-2021
Provide expert clinical governance advice, public health response and continuous quality improvement
Related jobs
Registered Nurse RN
Frontline Health - 30-11-2021
Work as a Practice Nurse in this medium GP practice providing clinical care to patients. Monday to Friday role
Clinical Support Nurse
Aboriginal Health Council Of Western Australia - CBD. Inner & Western Suburbs 30-11-2021
Provide expert clinical governance advice, public health response and continuous quality improvement support t
Email to a Friend